Table of Contents
Introduction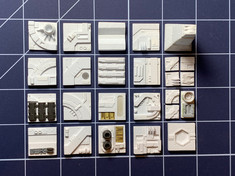 This is a set of very small surface tiles for a certain space station which is no moon. Intended for very small scale dioramas, the tiles are sized to a 10mm x 10mm grid, with the basic square tile size being 20mm on each side. I'm not sure what scale this puts them at, but it's somewhere between 1:350 and 1:500, I think.
I originally designed these tiles to be cut out of flat styrene sheets using a Cricut Maker electronic cutting machine, which is how I built the originals, in the same manner that I built my 1:144th scale T-16 Skyhopper. I've since modified those patterns to add detail and make them printable.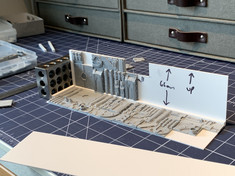 I'm also building a Death Star trench run diorama with these, and you can follow my build thread on the Replica Prop Forum. At the bottom of this page are are some resources that have inspired me - other model builders, and for original prop reference, very little beats Prop Store auctions!
Tile Catalog
10x10 grid
The tiles are not sized according to a defined scale -- they're sized to a strict 10mm x 10mm grid, with each tile's dimensions being in multiples of 10mm. I like the math to work out evenly like that. The standard square tiles are 20mm x 20mm, which is what I consider the "whole tile" size, and everything else is in multiples or fractions of that basic tile size.
Included are the following (so far):
20 standard tiles (20x20)
12 quarter tiles (10x10)
1 "double-half" tile (10x40)
2 double tiles (20x40)
1 quad tile (40x40)