Kayak Photography
This weekend we took a couple of kayaks from Sea Trek in Sausalito out for a paddle. The weather was beautiful, the wind was relatively low, and the bay was unusually flat.
This makes ideal conditions for bringing my camera and telephoto lens out on the water. This isn't as crazy as it sounds if you're comfortable in a traditional sea kayak. The closed cockpit design keeps things in the cockpit, even if the spray skirt is off.
Camera Protection on the Water
I use a camera drybag - the Ocoee by Watershed. Unlike most roll-top drybags that roll along the short axis, this one closes along the long axis, making it ideal to sit between your legs in a kayak and still be able to easily remove a camera with a long lens attached.
Additionally, the Olympus OM-D EM-1 MkII that I use is fully weather sealed - you can actually rinse it off under a sink to remove sand and salt. So, basically, you just need to avoid dropping it into the ocean - because it definitely won't float.
Birds & Seals
There is a near-permanent population of harbor seals that sit along the structures that mark off the bounds of the assorted marinas in Sausalito. With a 600mm equivalent lens (the 75-300mm zoom that I brought to Africa in 2015) you can get excellent shots while staying the requisite minimum of 100 feat away from marine mammals.
At some point I'll buy the 100-400mm zoom that I rented for the Galapagos for even better reach and image quality.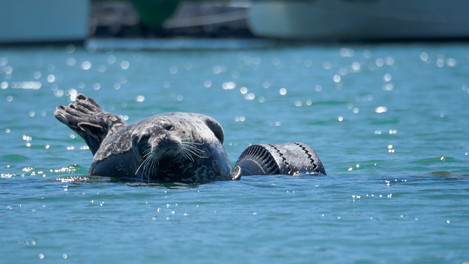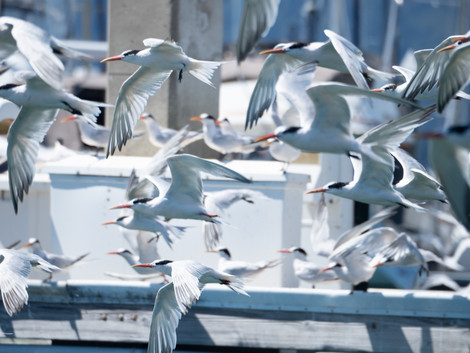 Finally, the view of the San Francisco skyline from the water level is pretty sweet.