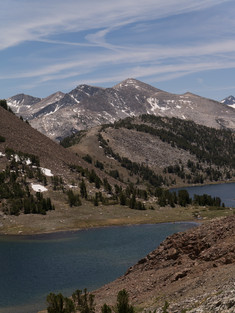 From the lake, the trail goes up a gradual basin with a creek running down the middle to the Upper Gaylor Lake, a smaller, rockier (and windier!) lake.
After a short break at the upper lake (My sea-level lungs were really feeling the effects of the altitude), we continued up above it, which yields a great view of both lakes.
At the top of the final ascent there are the remnants of an old mine - several stone structures, some wooden beams, and one big hole in the ground that amusingly had a very sad pile of snow sitting in the bottom of it.
We continued on over a few very small ridges to get the panoramic view beyond Yosemite's eastern border, into the Eastern Sierra, which is probably my favorite part of California, geologically speaking.